A 4-STAR CAMPSITE IN FRANCE'S VENDEE REGION
Welcome to Les Biches
The advantages
of camping


A family-friendly Flower Campings site close to the beaches!
Located in the town of Saint-Hilaire-de-Riez, close to the beaches of the Pays de Saint-Gilles-Croix-de-Vie, this campsite will welcome you into a natural setting surrounded by 10 hectares of pine trees, where you can enjoy a wonderful holiday with your family including: a water park (heated beginning in April and featuring water slides, outdoor pools and one indoor pool), a spa (with sauna, steam room and hot tub), a fitness centre, a tennis court, an escape room (in July and August), a crazy golf course, and bicycles for hire.
Your safety is our top priority! We will do everything in our power to greet you under the best possible conditions, in accordance with the Flower Safe+ health and hygiene charter.
A cheerful welcome awaits you in Saint-Hilaire-de-Riez from 28th April through 17th September 2023.
Activities available during summer holidays.
Remember to download the Flower Campings app from the Apple App Store or Google Play Store.


A CAMPSITE WITH POOLS IN SAINT-HILAIRE-DE-RIEZ
Want to relax by the water's edge? Les Biches has its own water park featuring four separate pools!
We have one indoor pool and two outdoor pools heated during the summer. In July and August, two lifeguards keep an eye on the pools so you can enjoy yourself with complete peace of mind. Our water slides are a delight for teens and adults alike. So, will you choose our speed runs or our spiral water slide? Better still, try both! While you do that, your youngest ones can splash around safely in our paddling pool. Many areas are arranged to allow you to settle in comfortably and peacefully on a sun lounger. The nearby bar is there to make sure you want for nothing.
And of course our team organizes water-based activities like aquarobics, water polo and a multitude of games in our pools in July and August.
Why should you have to choose between sunbathing, relaxing and having fun?
Discover the aquatic area
An aquatic
space
at Camping Les Biches


A spa
Well-being
at Camping Les Biches
A CAMPSITE WITH A SPA IN VENDEE
Want to savour a moment of peace and tranquillity? In a harmonious setting? Then take advantage of our campsite's wellness centre. Spend some time luxuriating in the hot tub and unwinding in the sauna or steam room, known for their wonderful health benefits. In July and August, you can extend this relaxing break by booking a treatment with one of our wellness masseuses.
Reservations available at reception. Possibility of hiring out the wellness centre for a group of up to 4 people, starting from €45.
Discover the spa


RESTAURANT & BAR
Our campsite serves traditional fare at the restaurant. Facing the pool, you can dine on mussels and chips, pizza or burgers. You are also sure to enjoy our daily specials made with meat and fish freshly delivered from the market.
For those in a hurry, our snack bar offers takeaway for lunch or dinner. This way, you can be served in no time and get back to participating in the campsite's different activities. You will find all the staples of food you can eat on the go, between panini, pizza, kebabs, hot dogs and more.
And don't forget about our bar for a break with family or friends over a cocktail, some ice cream or a crêpe.
Our bar and restaurant facilities are open during the french school holidays and big week-ends.
Discover the bar restaurant
Restaurant
& bar
at Camping Les Biches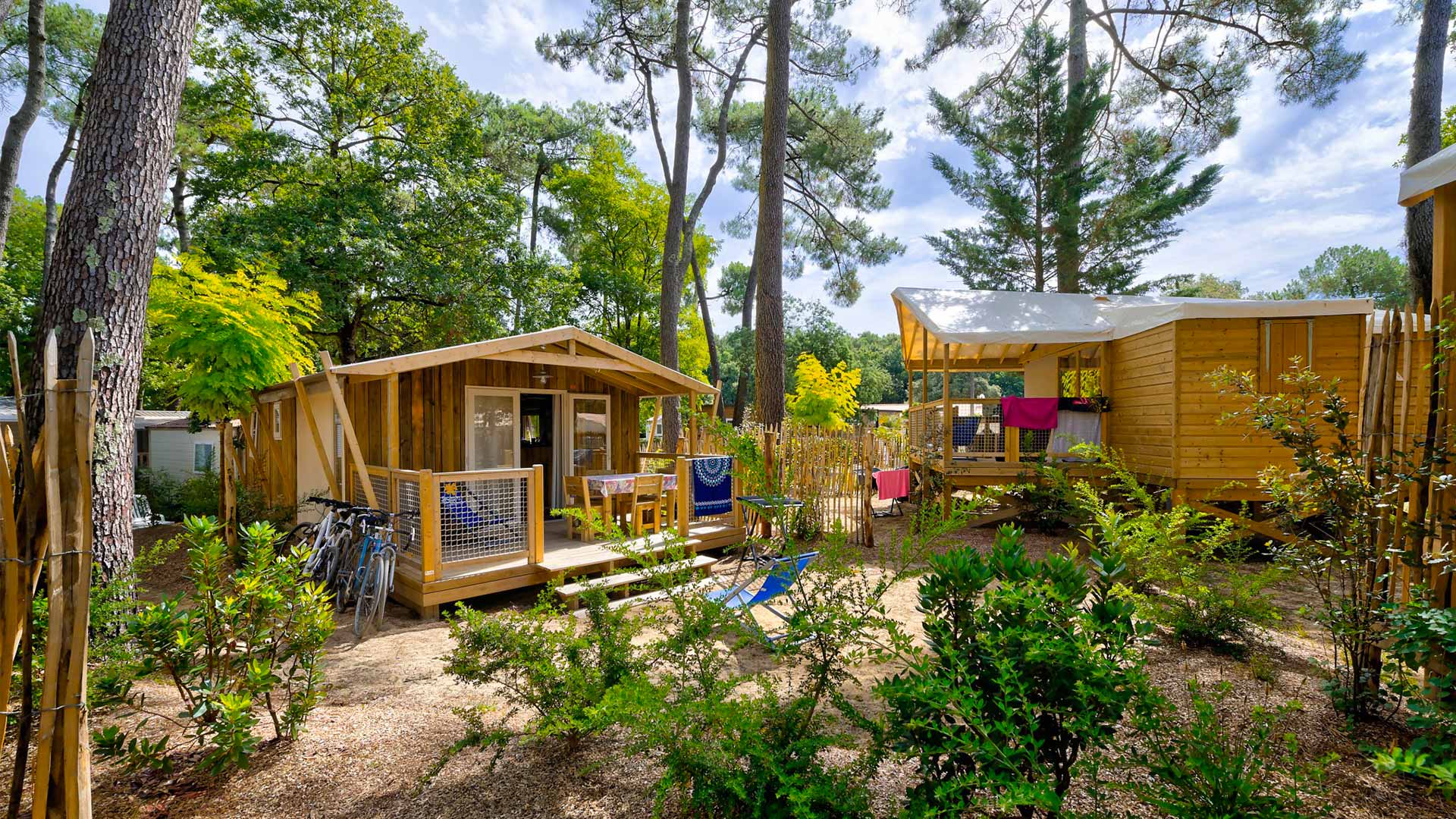 ACTIVITIES & ENTERTAINMENT
Holidaymakers of all ages will appreciate the many activities on offer at Les Biches.
Activities : spa (steam room, hot tub and sauna), fitness centre, bicycles for hire, table tennis, sports ground, tennis, crazy golf, playground, escape room, petanque, game room, and the list goes on.
Kids' club : open during the summer holidays, with activities leaders who will look after your children ages 6 to 12 in the morning or afternoon. On the programme: arts and crafts, treasure hunts, floating ball games, soft archery and more.
New in 2023: The baby club, which is open in July and August, with a qualified activity leader for children aged 3 to 5 years with fun activities and quieter moments with story times.
Several times a week, teens will also be invited to participate in a photo scavenger hunt, an evening playing werewolf or a football or beach volleyball tournament.
Daytime and evening entertainment is provided from 1st July to 1st September 2023.
You can also count on the many outdoor activities available around the campsite, like hiking, cycling or freshwater fishing in the Vie River, just a few minutes from Les Biches.
Discover the activities & animations
ACCOMMODATION OPTIONS
Find all our comfortable rentals which sleep one to eight people for your family holidays in Saint-Hilaire-de-Riez, in the Vendée's Pays de Saint-Gilles-Croix-de-Vie region: our mobile homes, chalets and tent cabins are all located on spacious, demarcated tree-lined pitches. Be sure to also check out our new Nature Lodge section featuring unique lodge cabins with all mod cons.
And for families thrilled at the idea of camping in the Vendée, spacious, deluxe shady pitches are available so you can set up your tent or caravan as you see fit. New: Large pitches with private washrooms and a kitchen area to make you even more comfortable.
Discover the rates


Discover
the region
from the campsite
SURROUNDING AREA
Saint-Hilaire-de-Riez and Vendée are great places for a holiday, where you can visit sites which showcase all the charm and authenticity of our region located near Saint-Jean-de-Monts and Saint-Gilles-Croix-de-Vie.
These outings could include strolling along the fishing port in Saint-Gilles-Croix-de-Vie, rambling along the Corniche Vendéenne coastal trail with stops at the Trou du Diable, the Cinq Pineaux and the Vie salt marshes, or setting sail for preserved wilderness of Ile d'Yeu.
Right nearby, you can even cycle out to the Atlantic Ocean and its beaches, like Sion Beach with its many water activities, the immense, very kid-friendly stretch of sand making up the Demoiselles Beach, and the Mouettes and Pège Beaches which are tucked away in the shelter of the dunes.
And all around, Vendée's heritage awaits you: culinary traditions like Saint-Gilles sardines, oysters and préfou garlic bread, the authenticity of the Bourrine du Bois-Juquaud eco-museum and unique experiences at the Puy du Fou theme park.
Discover the surrounding area
What to see What to do during your stay!