Our unusual rentals in the Vendée
"Choose the accommodation that suits you"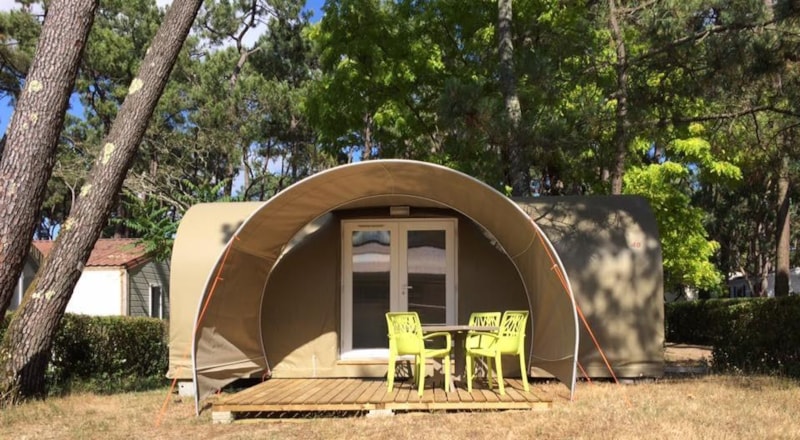 Tent Lodge Coco Sweet 2bd – without sanitary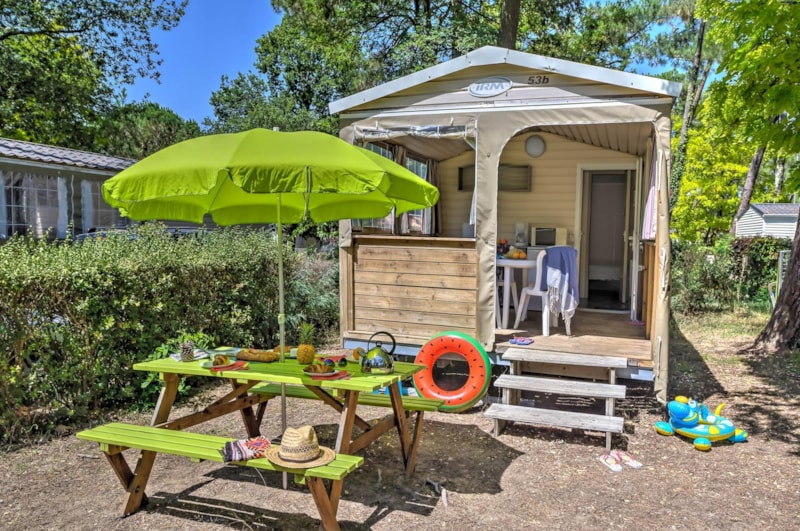 Cabin Nature 2bd – without sanitary facilities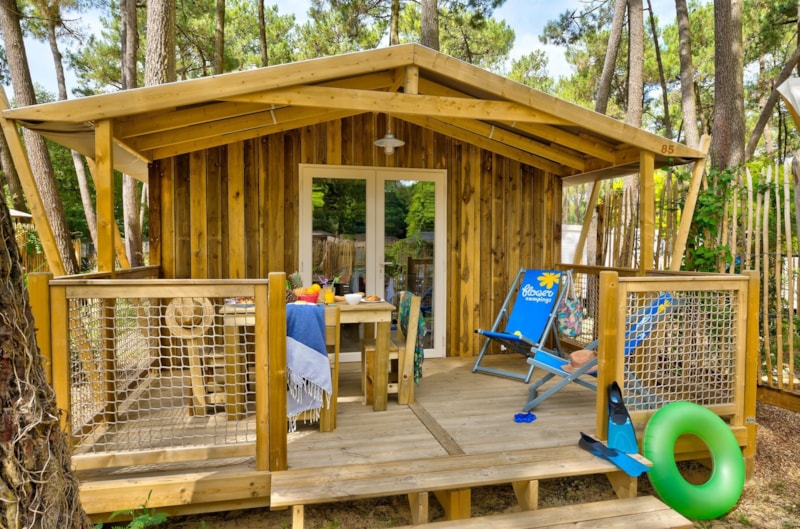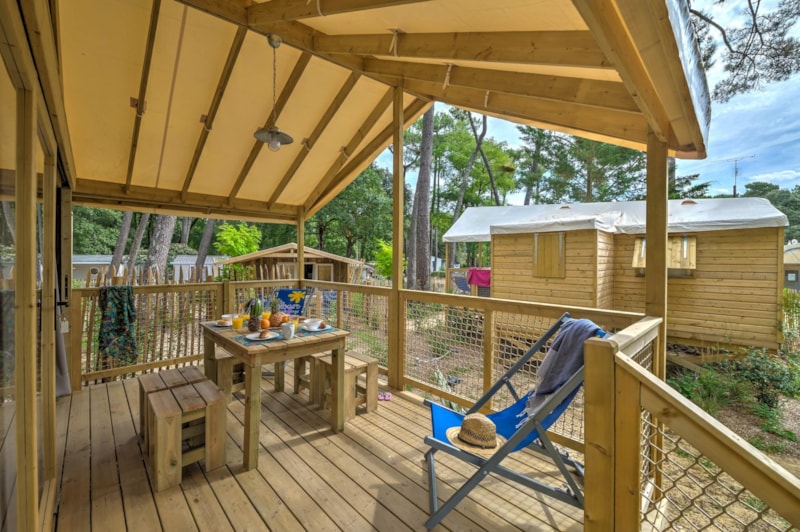 No results seem to match this combination of filters
UNUSUAL ACCOMMODATION AT OUR CAMPSITE IN SAINT-HILAIRE
Do you dream of a holiday in an unusual rental? Do you want to surprise your family with your original choice of accommodation?
At Les Biches, we have just the thing for you. Our Coco Sweet lodge tent and Nature cabin are sure to amaze. Surrounded by 100,000 m² of pine trees, your stay here in the warm, friendly atmosphere of our campsite in Saint-Hilaire will be truly unique. These inexpensive, well-equipped rentals will offer you all the comfort you need whilst on holiday in the Vendée.
With 16 m² of indoor space, the Coco Sweet lodge tent can accommodate up to 4 people. It has two bedrooms and a kitchen with:
Refrigerator
Microwave
Stove
Electric coffee maker.
It has no bathroom but is located near a toilet/shower block.
Outside, a lovely deck with patio furniture awaits you for your family meals. Its rounded shape and rigid, insulated walls covered with canvas are sure to be a crowd-pleaser. You can hire a barbecue at reception to grill your meals in the heat of the Vendée.
Our unusual Nature cabin is a cross between a mobile home and a tent. In this rental which sleeps up to 4 people, you will find yourself as close as possible to the great outdoors.
It is functional, with two bedrooms and a total indoor area of 19 m². It has no bathroom or water supply but is located near a toilet/shower block. You will be delighted by its small deck with a PVC shade and its kitchen with all mod cons.
DISCOVER OUR LODGE RENTALS IN THE VENDEE
You will find our Sweetflower rentals in the Nature section. These unusual rentals use wood and canvas to create a warm, pleasant atmosphere.
With their gentle pastel tones, they are sure to win you over. Large indoor spaces, a kitchen with all mod cons and a bathroom with a large shower will be a treat for the whole family. The warm lounge area features a coffee table and a television next to a bar with stools. Bond with your family in the charming, atypical accommodation.
A warm rental on stilts, the Cosyflower sleeps up to 4 or 5 people. The 24 m² of this spacious rental include two bedrooms and a kitchen with:
Microwave
Refrigerator
Electric coffee maker
Toaster
Dining area.
On its raised deck, you can admire the view from above. Fitted with patio furniture, two deck chairs and a grill, this 10 m² covered deck is ideal for meals as a family, a couple or amongst friends.
The authentic Cosyflower features a blend of canvas and wood, creating a warm atmosphere here at Les Biches.
Perfect for your holiday in the Vendée, Les Biches offers multiple camping pitches and holiday rentals. You can choose between our mobile homes, cabins, gites, chalets and more unusual options. Our affordable rentals also give you free access to our amenities. Our water park, playground, entertainment and activities guarantee you a holiday full of excitement, sharing and laughter at our family-friendly campsite in Saint-Hilaire.
THE ADVANTAGES OF GLAMPING IN THE VENDEE
Glamping, a combination of glamour and camping, offers a deluxe experience in quality accommodation.
In the spirit of glamping, you will enjoy a unique holiday with your family or friends at our campsite. Surrounded by nature, our rentals guarantee peace and relaxation in a luxurious rental. You will appreciate the comfort and comprehensive features of our unusual accommodation options.
If you are looking for a change from staying in a traditional tent, take a look at our unusual rentals with all mod cons. Experience true happiness with your family in one of our glamping rentals. After enjoying all our activities and entertainment, you will be thrilled to return to your high-quality rental when night falls.
Our chalets, mobile home and camping rates