Low cost campsite in Vendée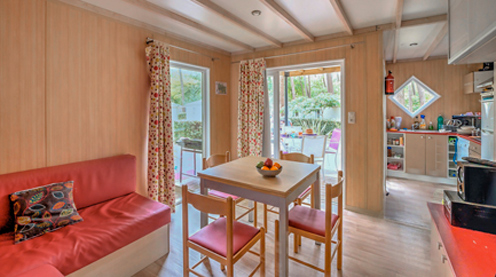 FIND THE BEST RATES AT OUR CAMPSITE IN SAINT-HILAIRE
Discover the Vendée while staying at our inexpensive campsite in Saint-Hilaire. We offer camping pitches and holiday rentals with all mod cons at affordable prices. Choose the accommodation that will most appeal to your family from amongst our mobile homes, chalets, gites, more unusual rentals and camping pitches, all at the best possible price.
For even more shared experiences, you will also enjoy free access to our water park and its heated pools and slides, as well as our entertainment and activities. We also offer a variety of add-ons for an extra fee, like our spa, escape room and swimming lessons, to make sure you have a wonderful time at our campsite in the Vendée.
Our campsite in Saint-Hilaire offers the best rates all year round. This way, you can choose the accommodation option which best suits your holiday budget. The comfort level and amenities vary from one range to the next, offering you maximum freedom when making your choice.
Opt for a rental or pitch, with or without private washrooms, at our affordable campsite and enjoy free access to our amenities for a holiday imbued with rest and relaxation. Have an unforgettable time with your family in the friendly atmosphere of our Vendean campsite, whilst benefiting from the best quality-price ratio.
DISCOVER OUR SPECIAL OFFERS IN THE VENDEE
For your trip to the Vendée, check out all the special offers for our affordable campsite. We offer a wide range of holiday rentals with all mod cons and shaded or semi-shaded camping pitches in the heart of our pine forest, with something for every budget.
In a friendly atmosphere surrounded by nature, you can treat your family to an unforgettable holiday, even on a budget. Young and old alike will find something that interests them from amongst our many activities and entertainment available for free at our family-friendly campsite in the Vendée. By opting for a rental with all mod cons here at Les Biches, you will enjoy the best possible quality-price ratio.
Les Biches in Saint-Hilaire offers a wide array of holiday rentals and camping pitches, all at the best prices. For your trip to the Vendée, choose one of our rentals and take advantage of the best deals and special offers.
Whether you are travelling with family, friends or your partner, you will find the perfect rental at our campsite, for a truly restful stay. Our free entertainment, activities and water park promise moments of pure bliss and laughter. Our campsite boasts the best rates in the Vendée, so you can allocate a bigger budget to your excursions, tours and activities around Saint-Hilaire.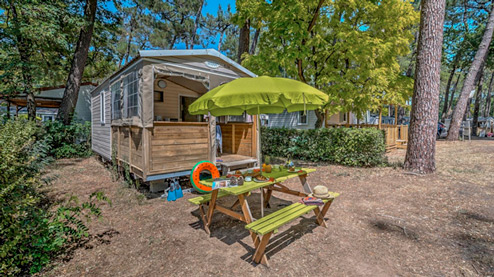 Our accommodation and pitches