Discover our events in Saint-Hilaire-de-Riez
KIDS' ACTIVITIES AND CLUB
The Club: During French school holidays, children ages 6 to 12 are welcome at the Mister Flower Club where they can partake in a variety of creative, entertaining or sporting activities (limited space). Supervised by our activities leaders, your little ones will be able to spend the morning (10 am to 12 pm) or afternoon (4 to 6 pm) laughing heartily with their new pals.
New in 2023: children aged 3 to 5 will also have a time for themselves with the creation of a Baby-Club. We will offer activities adapted to their age with a qualified activity leader. You can entrust your children to us for a few hours on Mondays, Wednesdays and Fridays from 10am to 12pm or from 2pm to 4pm.
A playground designed just for them (ages 3-12), featuring slides, swings, a bouncy castle and play structures, is right beside our family section.
Treasure hunts, arts and crafts, a mini disco and more: the full programme for your week with us will be available the Saturday before in the Flower Campings app.
A holiday at our campsite is also an opportunity to learn to swim during lessons taught by a certified lifeguard (in July and August) or to scuba dive for the first time (ages 10 and up).
TEEN ACTIVITIES
Here at Les Biches, we haven't forgotten about your teenagers. Twice a week in July and August, we organize games, photo scavenger hunts and so on, run by one of our activities leaders. And between football, beach volleyball and table tennis, your youths can also participate in the different sport tournaments arranged by our activities team.
FAMILY ACTIVITIES
Activities that promise fun… for everyone.
In July and August, we hold free sport tournaments and offer a diverse array of entertainment and activities to delight young and old. From aquarobics to cocktail hour games, by way of petanque competitions and introductory dives, a variety of options is available for you to have a great time as a family.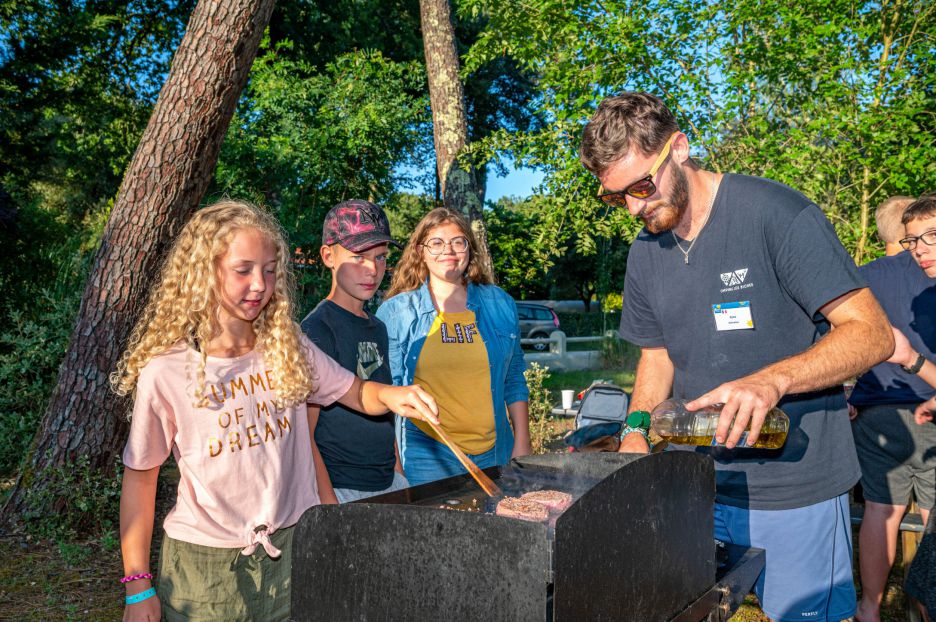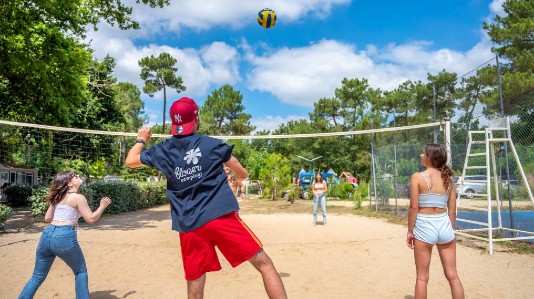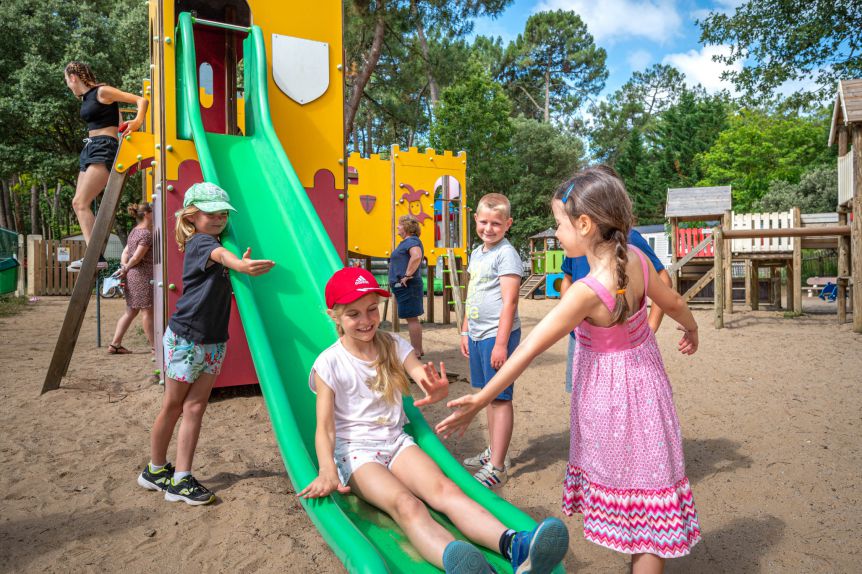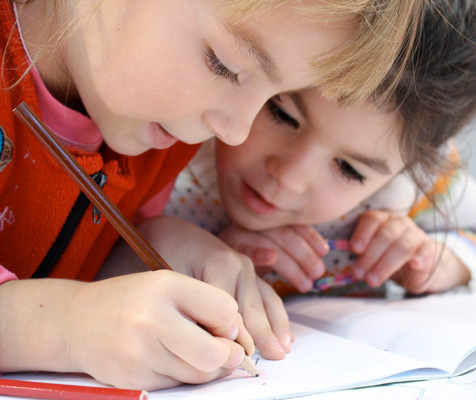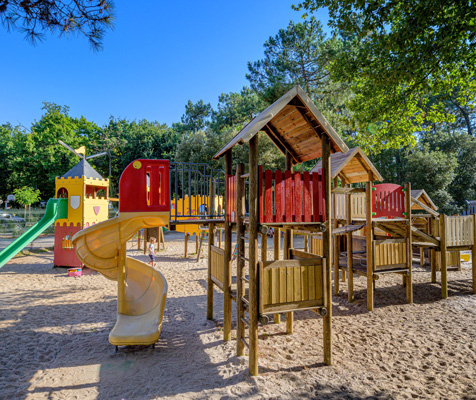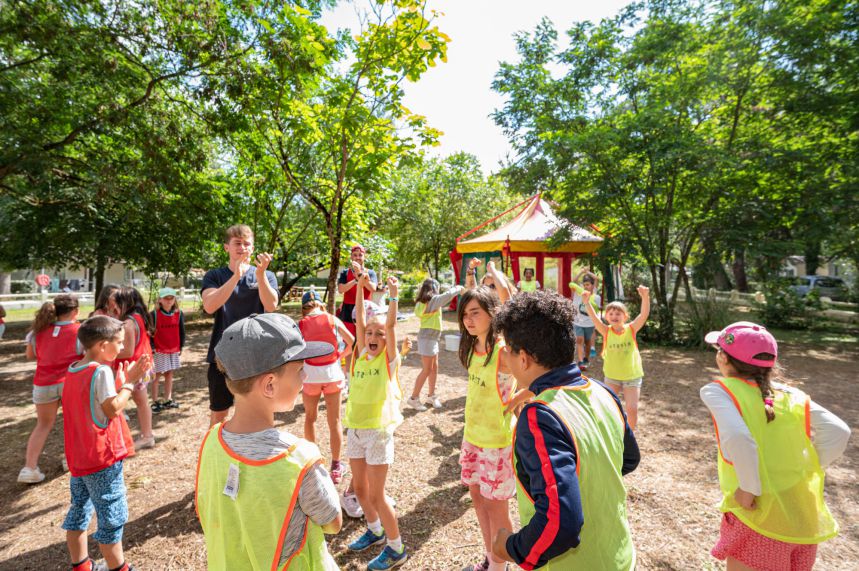 Fitness room
We have a fitness room with an elliptical, bicycle, stepper, rowing machine, treadmill and Roman chair to satisfy the needs of all our clients. Free access to the fitness room is reserved for adults and young people from 16 years old accompanied by a parent. Information and booking at the reception.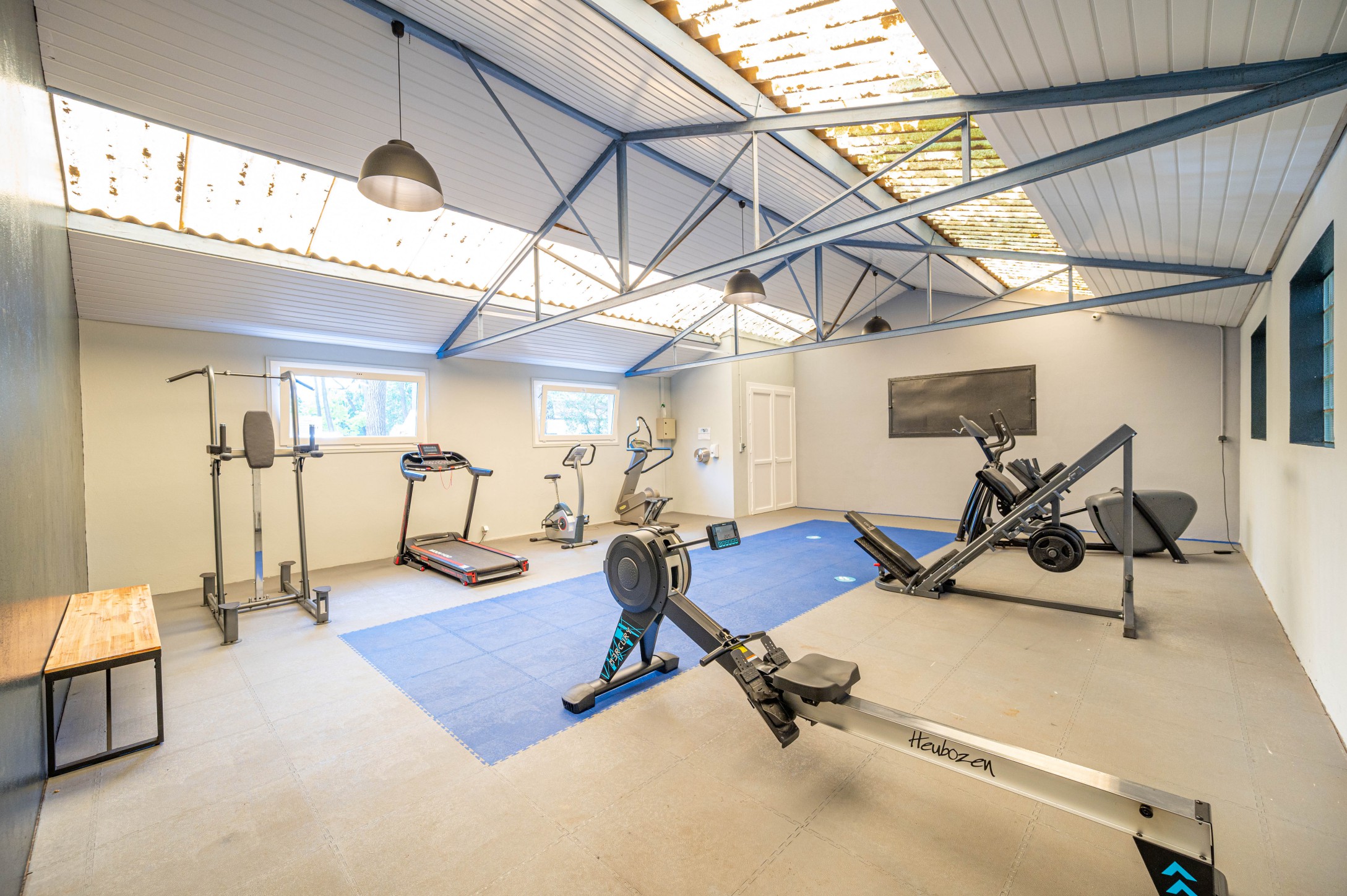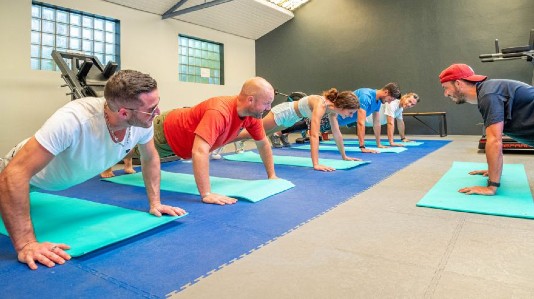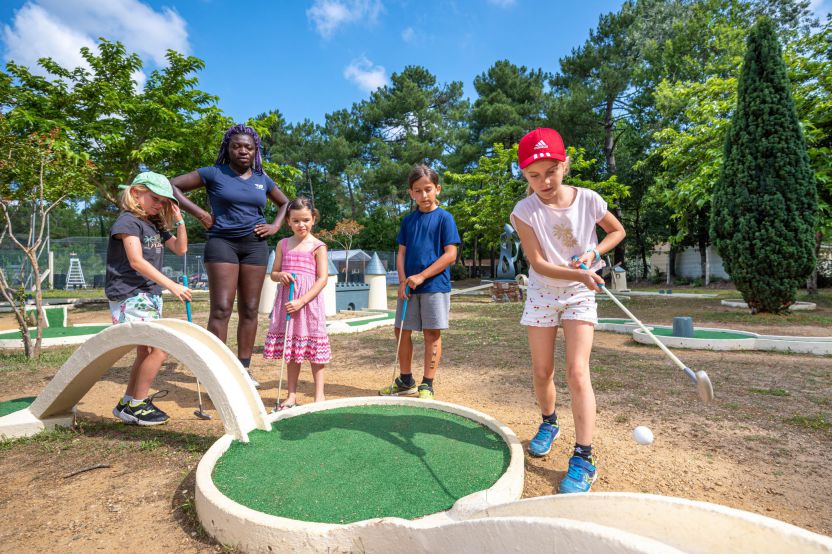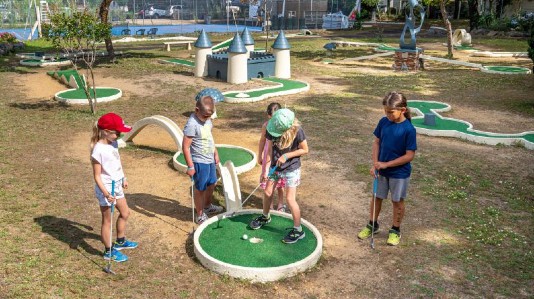 CRAZY GOLF
For quality family time, our crazy golf is open to players of any level or age. Young and old can show off their coordination and good cheer as you play through our 18 hole course.
Clubs, balls and score cards are available at reception for €2 per person (free for kids under 5). The full course takes about 2 hours to complete.
EVENING EVENTS
In July and August, join us at 9:30 pm, Sunday to Friday, for an unforgettable time together. Between quizzes and games, karaoke, shows, concerts and cabarets, our teams prepare fun evening entertainment for the whole family. Each Saturday, the programme for the following week is posted in the Flower Campings app.
Don't miss out on the theme meals at our restaurant, which focus on local cuisine and festive dishes in set menus concocted with the whole family in mind.
At 6 pm, our activities leaders host cocktail hour games on the bar terrace, followed by a live concert ending at 8 pm.
GAME ROOM
You will find classics like table football, pinball and air hockey in our game room, along with car and motorcycle racing games and an exclusive dinosaur hunting arcade game.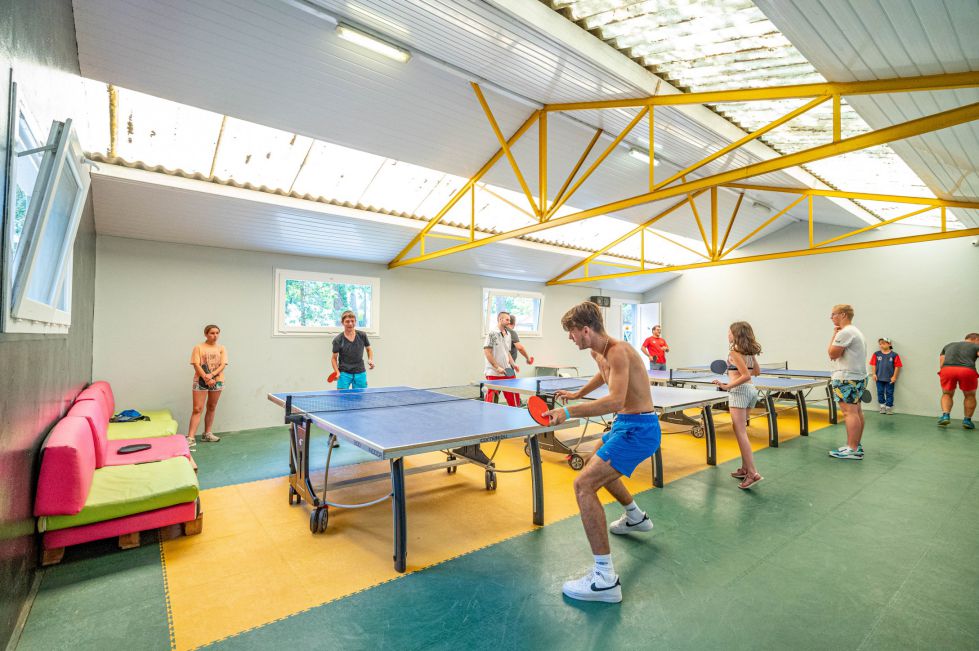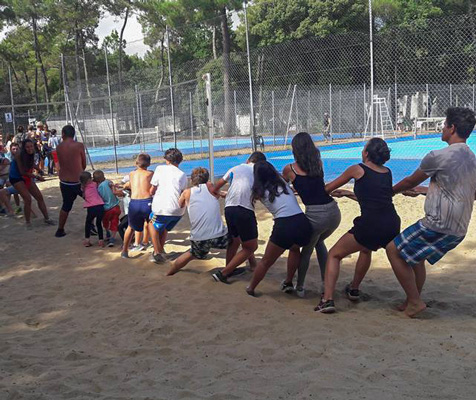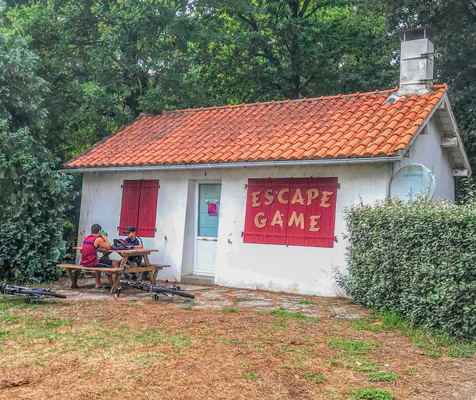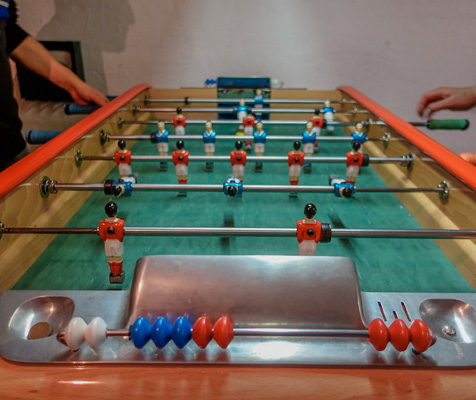 SPORTING ACTIVITIES
For our more sporting guests, the campsite has a tennis court, a sports ground, a petanque pitch and a table tennis room.
And don't forget the sport tournaments run by our activities leaders during school holidays, as well as the aquarobics and muscle strengthening classes offered each morning in July and August.
You can find the calendar of activities and all the useful information about each one (opening hours, access, etc.) in the Flower Campings app.
AN ESCAPE ROOM AT YOUR CAMPSITE
Exclusive! Our escape room!
Do you like treasure hunts? Searching for clues? Opening locks?
Then you'll love the full-scale puzzles in our game… Locked in a room with your team (of up to 5 people), you will have 60 minutes – and not a second more – to emerge victorious! The record stands at 43 minutes! Les Biches is the only campsite in Vendée to offer its own escape room… So come and make your escape!! The escape room is open in July and August, for the price of €45 for 2 to 5 players. Reservations are required and can be made at reception.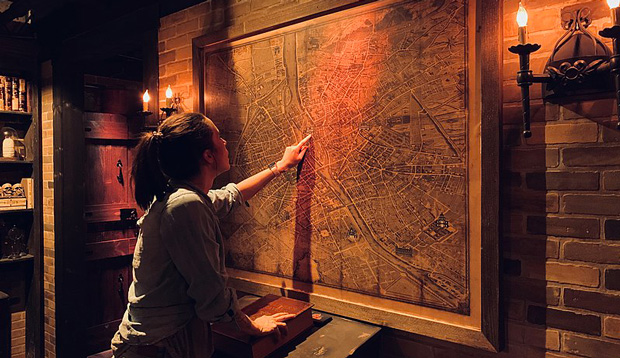 Our restaurant and swimming pool